Land Registration and Information
SNB maintains a network of registries across the province where legal plans and documents related to the ownership of real property can be registered and made available for public scrutiny. The records in the Registries provide land ownership information dating back to the issuance of the original crown grants (over two hundred years of history for some parts of the province). Instruments registered or filed in the registry include deeds, mortgages, wills, subdivision plans, etc.
For the detailed fee structure, please click here .
Back to Land Registry Products and Services Listing
Land Information Products and Services
All Land Information products and services offered by SNB are derived from the following databases:
Digital Property Map Database
- provides a graphical display of land parcels in New Brunswick.

Parcel Index File
- links the property map to information about the ownership, location, extent, registered documents and survey plans associated with land parcels in New Brunswick.
- displays the status of the parcel, whether it is Land Titles or Not Land Titles
- images in PDF format of all documents and plans, related to PIDs, registered since June 2002 are available for viewing online under "Real Property Information - Parcel Information" screen - by clicking on the hyperlinked Instrument number.
- images of historical documents are also available online via the Search Registration Index at https://www.planet.snb.ca/PLANETDB/mnquery$.startup
- large format prints of plans may also be requested for a fee - for more information on imaging click here.

Assessment Database
- provides public information about the use and value of real property for purposes of property taxation.
Registry and Mapping Services
What is it?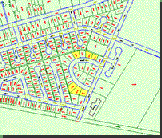 SNB's Registry and Mapping Services provides Internet based access to the property map and ownership information on all land parcels in the Province. It includes a feature called the Land Gazette which allows other agencies of Government to use this gateway as a means to serve public notice of the existence of regulations, restrictions and other land related information that may impact on the use of land.

What does it cost?
You have the option of purchasing access to the service under the 2 following Charging Models:

Transactional
The Transactional-Based Fee Structure is $1 for all queries on textual information on a parcel, and property maps. The Transactional-Based Fee Structure has a minimum billing of $10 / month for ALL ACTIVE accounts.
Subscription
The Subscription charging Model will be a Flat Fee structure with NO LIMIT on the number of transactions for monthly subscribers.

The following are the 4 subscription rates available:

General Browser Use Only (no access to Advanced Browser!)


$60 / month for licensed government agencies and private users who have purchased Parcel Attribute and Property Map datasets, and subscribe to periodic updates.


$125 / month for non government agencies and private users

Advanced Browser (General Browser INCLUDED!)

$75 / month for licensed government agencies and private users who have purchased Parcel Attribute and Property Map datasets, and subscribe to periodic updates.


$150 / month for non government agencies and private users


Additional Fees: (NOT included in above! )

It should be noted that the following activities have additional per request fees for both charging models.


Registration Index - Grantor/Grantee Searching - $17.50 per half day (7:00 a.m. to 12:00 noon; and 12:00 noon to 12:00 midnight)
Requesting an official CRO report via the "Click Here to Request CRO" link - $35 per CRO
Requesting an official PID Description report via the "Click here to request an Official Report" link - $5 per PID Report
Land Gazette reports vary. All prices indicated on request screens
Requesting a Hardcopy of a plan image via the Electronic Plan View / Download screen - $5 per page and $3 for Shipping
Requesting a E-mail of a document or plan image via the Electronic Plan or Document View / Download screen - $2 per email ( whole document or plan)
For a detailed Document of all related fees attached to Service New Brunswick's Registry and Mapping Services please "Click Here"

Back to Land Registry Products and Services Listing

What equipment do I need?
You need an Internet connection, and a current version of World Wide Web browser.

How is it accessed?
You will need to apply for an account with SNB in order to access this service. The application form and other details about this new service may be obtained at https://www.pxw1.snb.ca/snb7001/e/2000/2019e.asp

Link to application forms?
Registry and Mapping Services - Client Authentication Package

Other Inquiries?
Telephone or Fax Inquiries: SNB customer service staff will provide land ownership information to clients over the telephone or by fax. Fees will be assessed as per the information provided.

For Office Locations Information CLICK HERE

Searching for Grantor/Grantee Information

Clients can search for Registration Index information online or at any SNB Registry Office for a fee of $17.50 per half day.
Registration Index information includes:
Registration Index
Historical Registration Index
Historical Documents
Copies of registered documents and survey plans and Historical Documents are available for a fee. What is it?
The Counter Service allows clients to view land parcels and ownership information with the help of the SNB staff.

How does it work?
The PLANET system defines the map and data requirements as results are displayed on a computer screen. Clients decide when the map and ownership information displayed on the screen is the information they want to buy.

What will it cost?
There is a $17.50 user charge or access fee for browsing the Counter Service.

Fees for the information are as follows:

Property Maps:
11x8.5 print $5.00/Print
17x11 print $7.00/Print
Ownership Listings:
| | |
| --- | --- |
| 1-25 parcels | $1.00/parcel |
| 25-100 parcels | $25.00 total |
| more than 100 parcels | $0.25/parcel |