Learn more about property taxation and assessment
The property assessment process in New Brunswick
How property assessment factors into your tax bill
Market value (and why assessments are based on it)
Additional Questions and Answers
The Re-inspection Program
The Appeal Process
In New Brunswick, governments at both provincial and local levels have a role to play in property taxation and assessment, namely: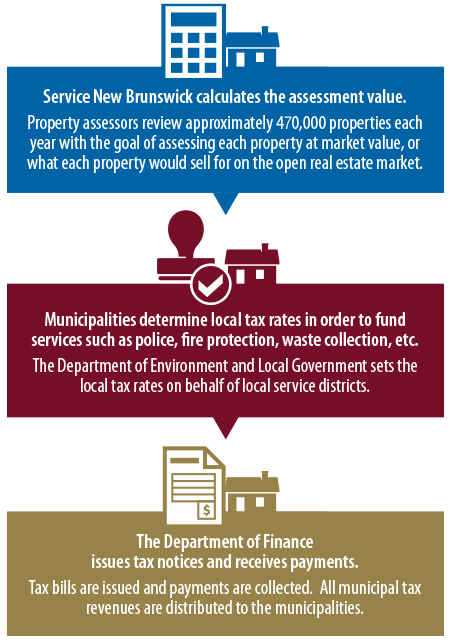 Your tax dollars at work in your community
Interested to know what your community spends on local services? For a detailed look at the budgets, assessment bases, tax rates and more for all 370 New Brunswick communities, please visit www.gnb.ca/localgovernment, click "Publications" and then scroll down to the Annual Report of Municipal Statistics.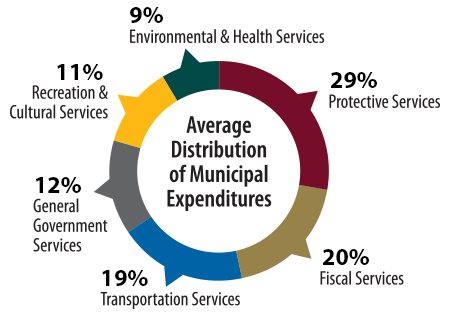 Property owners are taxed based on the value of their property, which is determined through a property assessment.
The property assessment process in New Brunswick
At Service New Brunswick, we employ a team of assessors who review the property Assessment value of more than 470,000 properties throughout New Brunswick each year.
Assessors look at a variety of factors when assessing your property, including the sale prices of homes or properties in your neighbourhood and any recent renovations or improvements that you may have made to your property. So, if local sale prices are increasing or you've done renovations, then it's very likely that your home or property has increased in value too.
Local sale prices can affect your property's assessed value
When several properties in your neighbourhood sell for more than their assessed value, this suggests a higher value for all properties in that neighbourhood - even if no physical improvements have been made. We analyze these trends and use them to make adjustments to assessments to bring them in line with their new market value.
As real estate values in many areas of New Brunswick have been increasing over the last few years, assessments have grown to reflect these increased market values. Due in part to this, a cap was introduced in 2011 to limit increases in assessed value on owner-occupied properties up to a maximum of 3% per year.
In 2013, the 3% cap on assessments was removed in an effort to return to a market value based system over the long term. An Assessment Gap (Permanent Assessment Exemption) will apply to those properties that benefitted from the 3% cap. The Assessment Gap is calculated based on the difference between the 2012 market value and the 2012 capped value.
In addition, an Assessment Spike Protection mechanism is now in place to ensure property assessment growth occurs in a more stable and predictable manner for owner occupied properties. An assessment increase greater than 10 percent will be phased in over a period of time. All new construction and/ or major improvements made to a property are excluded from Assessment Spike Protection.
Looks can be deceiving
Your house and your neighbour's house may look very similar, but factors such as finished basements, age and quality of the building, and type of garage could result in a different assessment for each property. Even two seemingly identical houses can have very different assessments if they are located in different parts of a city, in a different community, or subjected to measurably different market forces. (Imagine the market value of your house in downtown Toronto or in St. Stephen - two neighbourhoods with very different real estate markets.) The bottom line is that an assessment is unique to each individual house or property. Find out more by comparing your assessment to others in your neighbourhood.